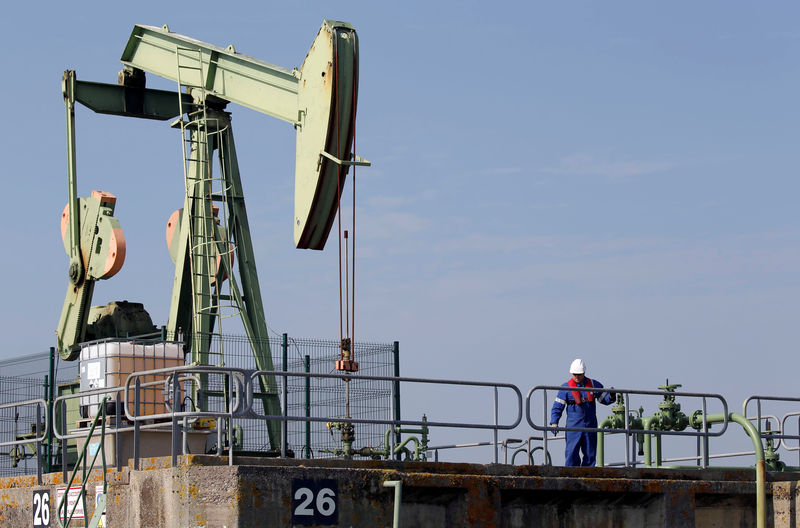 © Reuters. An oil pump jack of Canadian group Vermilion Energy is pictured in Parentis-en-Born
By Henning Gloystein
SINGAPORE (Reuters) – Oil prices fell on Wednesday as Chinese crude imports slipped to their lowest level in a year, although traders said the overall market remains well supported because of OPEC-led supply cuts.
Traders said they were closely eyeing escalating tensions in the Middle East, especially between regional rivals Saudi Arabia and Iran.
Brent futures (LCOc1) were at $63.43 per barrel at 0744 GMT, down 26 cents, or 0.4 percent. The decline follows Brent rising to an over two-year high of $64.65 earlier this week.
U.S. West Texas Intermediate (WTI) crude (CLc1) was at $56.90 per barrel, down 30 cents, or 0.5 percent, from its last settlement. WTI also marked its highest in over two years earlier this week, at $57.69.
China's October oil imports fell sharply from a near record-high of about 9 million barrels per day (bpd) in September to just 7.3 million bpd, data from the General Administration of Customs showed on Wednesday. That is the lowest level since October 2016, though imports were up 7.8 percent from a year ago.
"Lower imports reflected less purchases from independent refineries as many of them are running out of crude quotas for this year," said Li Yan, oil analyst with Zibo Longzhong Information Group.
For next year, however, independent refiners are likely to boost their imports again as authorities on Wednesday raised the 2018 crude oil import quota by 55 percent over 2017 to 2.85 million bpd.
Overall, oil markets remain well supported largely due to an ongoing effort led by the Organization of the Petroleum Exporting Countries (OPEC) and Russia to withhold supplies to prop up prices.
"Stronger oil fundamentals and investor inflows have been the catalyst for higher oil prices, but adding further support now is a focus on several geopolitical risks that have been looming over oil markets for a while," said U.S. bank Citi.
With crude up more than 40 percent since June, many U.S. shale oil drillers have locked in recent profits by selling future production, pushing up trading in WTI crude futures.
While producers are profiting from higher oil prices, oil-consuming industries are starting to feel the pinch.
"Oil is back up to $60 a barrel, and I think it is going to put downward pressure on airline profits and margins in the coming years," said Brian Prentice, a partner at aviation services firm Cavok.
Despite recent oil price rises, offshore oil drilling activity remains low as companies are still reluctant to invest big sums into future output, Bernstein Research said on Wednesday.
"We find little evidence of significant new work ahead … We would have to see significant pick-up in sanctioning activity by year-end to believe in the beginning of a recovery," it added.
sponsoredArticle = 'div-gpt-ad-1466339494851-0';